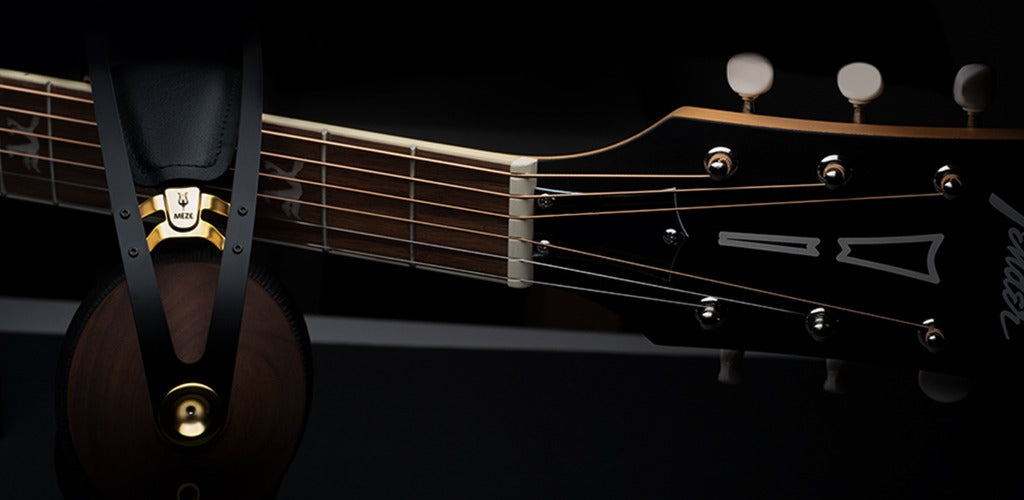 Music is a language we can all understand, a universal way of self-expression, and creativity in the purest form. Who among us doesn't have those unforgettable stories related to a favorite album, a first concert or a song they've heard on the radio? You probably already know about ours.
It all started when Antonio was searching for a pair of headphones that he could relate to in the same way he felt connected to his Fender Stratocaster guitar. He wanted an object to pour his passion for music in, so he decided to make it himself. So, it's no secret that music is at the core of everything we've worked on for the past 10 years and, to this day, each product we create serves the same purpose – to do justice to all the artists we love and their work.
During our journey, remarkable singers, composers, producers we've admired for years or just recently discovered have shared the same love for our craft that we do for theirs and joined our community of artists. Through their work, these musical masterminds evoke and validate emotions, provide comfort and inspire us to create.
Today, the Meze Artists family has over 90 members from all over the world. Scroll down to discover the inspirational stories of the latest musicians to join us!
An absolute musical genius, Yann Tiersen marked our student life and artistic journey in the past 20 years with his whimsical work for AMELIE and GOODBYE LENIN.
Award-winning composer, songwriter, and multi-instrumentalist who excels at melancholic, thought-provoking music divided into more than a dozen albums. Tiersen is now one of the most revered artists of his generation.
Growing up in Rennes, Tiersen has been involved in music for most of his life. He started learning piano at the age of four, took up violin at the age of six and received classical training at musical academies in Rennes, Nantes and Boulogne. At 13, he broke his violin into pieces, got a guitar and formed a rock band.
When his band broke up later on, he bought a cheap mixing desk, an eight-track reel to reel and started recording music solo with a synth, sampler and drum machine, poring over the grooves of old records.
Through the summer of 1993, Tiersen stayed in his apartment, recording music alone with guitar, violin and accordion, guided not by the classical canon, but by intuition and his vision of "a musical anarchy". "One day I thought, instead of spending days on research and listening to tons of records to find the nearest sound of what I have in mind, why don't I fix this violin and use it?"
By the end of the summer of 1993, Tiersen had recorded over 40 tracks, which would form the bulk of his first two albums - 1995's La Valse Des Monstres and Rue des Cascades.
Six years later, the record would find a much larger audience when several tracks, along with music from Le Phare, would be used on the soundtrack to Jean-Pierre Jeunet's film Amelie (2001).
Le Phare went on to sell over 160,000 copies, confirming Tiersen's status as one of the most pioneering and original artists of his generation and commencing a run of successful albums like 2001's L'Absente (featuring orchestral group Synaxis, Lisa Germano and the Divine Comedy's Neil Hannon) and 2005's Les Retrouvailles (with guests Stuart Staples of Tindersticks, Jane Birkin and Elizabeth Fraser of Cocteau Twins).
2016 saw Tiersen's first solo piano release, EUSA, a move into more minimalist contemporary sounds showing the continuation of Tiersen's diversity.The album gave a musical map of Ushant, the island he has called home for the past several years, with electronically manipulated original field recordings of the natural sounds on the island creating subtle drone that runs throughout.
Tiersen explains, "You may get this intuitive thinking of, 'oh it's piano stuff', but actually it's not. I worked on piano tracks to begin with but that's not the core of it, they are not important. The context is the most important thing - the piano was a precursor to create something for the electronics to work around.
Christopher Tin is a two-time Grammy-winning composer of concert and media music. At Time Magazine, his music is called 'rousing' and 'anthemic', while The Guardian says it's 'an intelligent meeting of melody and theme'.
His music has been performed and premiered in many of the world's most prestigious venues - the United Nations, Carnegie Hall, the Lincoln Center, the Hollywood Bowl - and by diverse ensembles, such as the Royal Philharmonic Orchestra, Metropole Orchestra, and US Navy Band.
His song 'Baba Yetu', originally written for the video game 'Civilization IV', holds the distinction of being the first piece of music written for a video game ever to win a Grammy Award.
In 2011, his debut album, Calling All Dawns, brought a second Grammy for Tin - Best Classical Crossover Album. The follow-up release named The Drop That Contained the Sea debuted at #1 on Billboard's classical charts, and premiered to a sold-out audience at Carnegie Hall's Stern Auditorium.
In 2020 Christopher signed with the legendary Decca label, releasing his oratorio about the history of flight as told by 11 of our greatest astronomers, investors, visionaries, and pilots: 'To Shiver the Sky'. His works are now published by Concord Publishing/Boosey & Hawkes and he works out of his own custom-built studio in Santa Monica, Los Angeles.
Michael Price is one of the UK's most sought-after composers. His critically acclaimed debut album on Erased Tapes Records, Entanglement, released in April 2015, was described as 'gorgeous' by Rolling Stone, as 'a neo-classical treat' by Uncut, and Clash remarked that 'the emotional clout of this music is quite staggering'. A new album, Tender Symmetry, was released on August 31st 2018.
This ambitious musical project takes in a series of iconic National Trust locations across England as its inspiration, turning them into unlikely recording spaces. Michael's work for film and television has been also widely recognized, bringing him an EMMY award in 2014, as well as the Royal Television Society, Music & Sound and Televisual Bulldog awards.
His work for BBC series Sherlock, which he scored with David Arnold, received a BAFTA nomination and 2 further EMMY nominations. Other recent TV projects include the 4th season of BAFTA-winning crime drama Unforgotten and the BBC's new Dracula adaptation, created by Stephen Moffat and Mark Gatiss.
Prior to achieving acclaim as a composer, Michael enjoyed significant achievements as a music editor on a number of blockbuster films such as Peter Jackson's The Lord of the Rings trilogy, Richard Curtis' Love Actually, Bridget Jones: The Edge of Reason and Alfonso Cuaron's Children of Men. As a music editor, Michael has been nominated for 4 MPSE Golden Reel Awards, winning in 2001 for The Lord of the Rings: The Fellowship of the Ring.
Michael's first film experience was as a musical assistant, co-producer and arranger to the late Michael Kamen, with whom he collaborated for 5 years. During this time, Michael worked on a number of prestigious projects including X-Men, Band of Brothers, The Iron Giant, Metallica – S&M, and plenty of other live concerts around the world. Michael has also arranged and written additional music on a number of major film projects, including Edgar Wright's Hot Fuzz, Tinker, Tailor, Soldier, Spy, Casino Royale and Quantum of Solace.
Having studied there as an undergraduate, Michael has recently been appointed Visiting Professor of Composition on the Tonmeister Course at the University of Surrey, and is a full member of BAFTA, BASCA, MU, PRS and ASCAP.