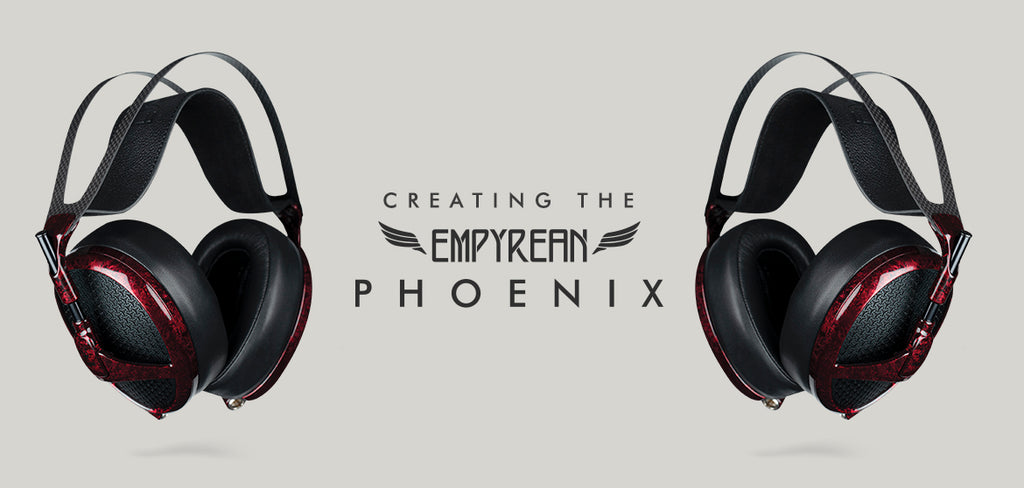 Back in 2015, when Antonio Meze founded Meze Audio, he had no idea of the things that lay ahead. It all started from a deep belief that design should enrich life and inspire people in the right way, that headphones should be more than just functional.

When he first started tinkering with headphones, he would play around with existing products and spare parts, until he turned them into something else. Now, we're always looking to build something innovative, whether we're talking technology or design.

With few exceptions, audio gear is rarely considered a work of art and design often comes second to performance. Born out of love of sound and artistry, as a celebration of self-expression and individuality, we believe Empyrean Phoenix breaks that barrier.
Our goal was to make a headphone without any compromises, without cutting short on quality, build, materials or technology, and that didn't come from a business decision. It was more like an art project for us.

With a name inspired by the myth of the Phoenix, this fiery red and black Empyrean is a rare collector's item, the first from the Meze Art Gallery collection – a Meze Audio collection of exclusive products born out of passion for art and craftsmanship.

This open-back headphone features a CNC sculpted chassis milled from a single piece of aluminum, hand-finished with irregular patterns made through marbling techniques such as those used for custom-painting cars or bikes. This allowed us to have control over the composition, while also enjoying a spontaneous flow of color that makes each of the pairs unique.
We played around with colors and placement, creating distinctive contrast and play of light that we wouldn't otherwise be able to create purposefully. After meticulously cleaning and prepping the surfaces, five layers of paint are applied to each piece of the frame, using different techniques. First, the first priming layer, followed by a layer of black paint.
We let it dry for four to five hours, make sure no impurities made their way through the paint, then add the pattern in silver, using a marbling technique. Two layers of candy red come on top, plus the final lacquer top coat, applied in two layers, only after we do another careful inspection of the texture.
The entire painting process takes about 16 hours just for one headphone. To that, we add another 24 hours needed for the paint to dry, before we can start the final product assembly. Blending this intricate design with the innovative technology of the original Empyrean, this limited-edition headphone embodies our pledge to the one thing that makes us Meze: art in its most functional form.


Behind the artfully redesigned frame, an Isodynamic Hybrid Array driver creates a complex, balanced sound signature that allows you to enjoy a listening experience worthy of a live performance. Passion-infused and carefully assembled, Empyrean Phoenix is here to set new standards in comfort, high-quality sound and aesthetics. Read more about it here.