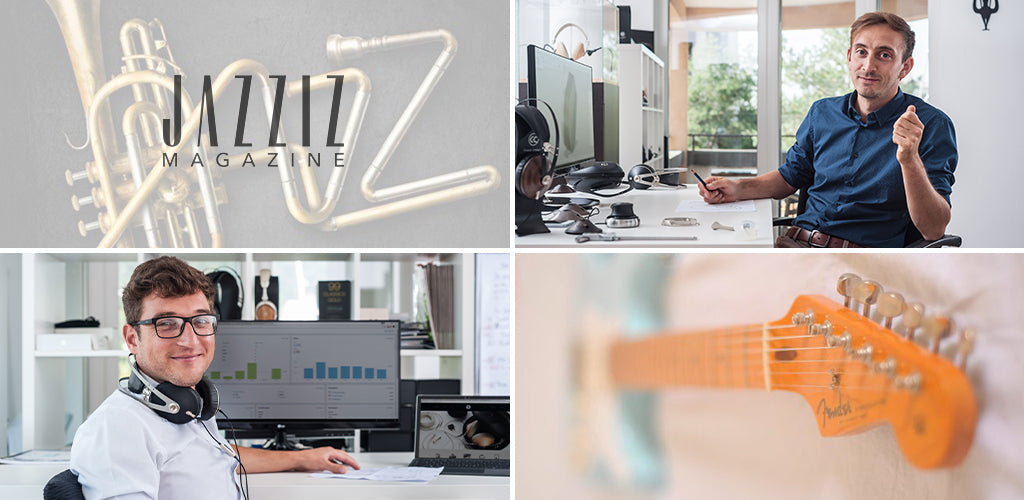 May 4th, Star Wars Day! Fictional alien species from across the Galaxy, Empire or Resistance alike, together with their respective fans, find a reason to celebrate. An excellent day to catch up with our friends from JAZZIZ Magazine and talk about what drives the innovation force in our company here in Baia Mare, Romania.
JAZZIZ Magazine is an authoritative voice of jazz culture. 35 years on the market and media veterans on audio gear related topics, they currently print a quarterly magazine distributed across North America and UK. In the last few weeks, while concert stages stayed closed and most of us isolated at home, they've launched a series of live "daily-brunch" interviews with jazz artists, including this awesome "Live From Emmet's Place" living-room jazz concert.
In the same line of love for music and audio gear that brings it closer to our hearts, they invited us for a casual live video interview, for a first episode from JAZZIZ Sound Bites series. We had Antonio Meze, founder and lead designer in Meze Audio, and Mircea Fanatan, managing director, go live and talk about their beginnings in headphone manufacturing, inspiration, products and, of course, music.
Antonio (whom we internally call Anto in the team) started tinkering with headphones during a time when he was working as an industrial designer, hopping from place to place around the world, according to where his projects would take him. As exciting as this lifestyle would seem, it also brings a lot of side effects such as the feeling of being disconnected from everything familiar. During these times, music and his Fender Stratocaster guitar were his most constant travel companions. With a passion for organic design, that draws one to a product just as art and nature do, Anto dreamed about a pair of headphones to replace the black plastic ones he'd usually carry with. Finding there wasn't any pair of headphones to match his Fender Stratocaster guitar, he decided to experiment with parts already on market and design his own headphones.
That's how the first pairs of Meze headphones have been born in year 2011. Out of Antonio Meze's personal passion and need. A passion that later naturally transitioned into a company and driving, to this day, the whole manufacturing process. Later joined by Mircea (Fanatan), Meze Audio would have its breakthrough in year 2015, once with the launch of the first pair of headphones developed from the ground up: 99 Classics.
The rest is history.
If we have sparked your curiosity for even a bit, check out the whole interview below and listen to Anto and Mircea telling the story themselves.
 And, regardless of the date, May The Fourth Be With You!