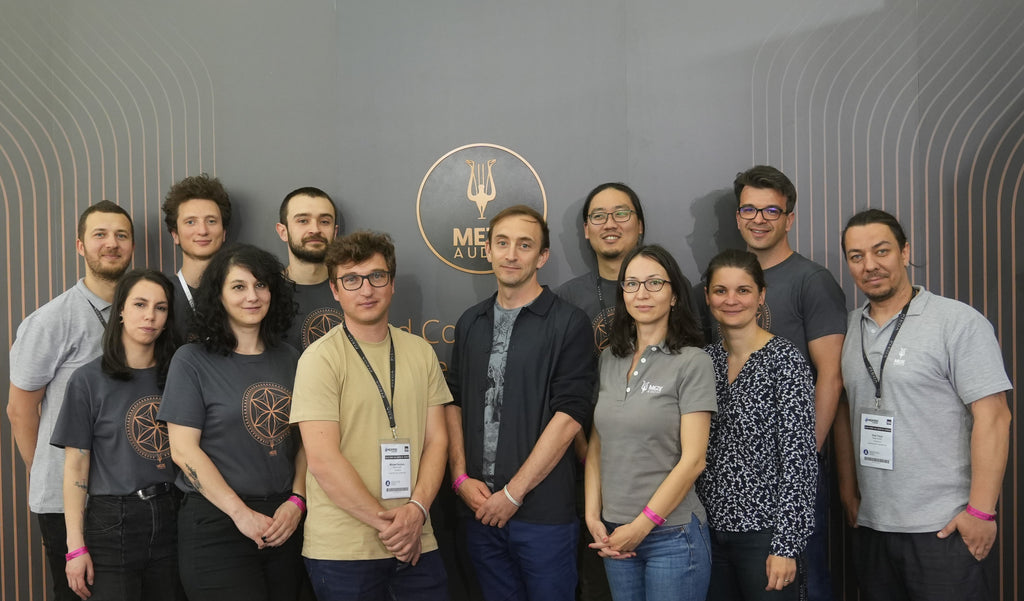 For HIFI aficionados worldwide, the High-End Munich show is one of the most important and impressive get-togethers in the audio world, a place where trends are set, inspiration is shared and groundbreaking ideas are born.
Back in 2019 we had no idea that our trip to Munich was going to be the last, for a while, and we definitely had no clue that 3 years later we'll be back with a much bigger team and another 4 highly appreciated products added to our portfolio. We've done a lot of growing in the past years so, naturally, we were excited to finally be back.
After a 12-hour car trip from Romania to Germany, a dinner with the team at the hotel and a much-needed sleep, the first show day was about to start and we had no idea what to expect. The immense floor of MOC was almost immediately crowded once the doors were open.
From then on, the 4 days of the show went by so fast. I guess time does fly when you're having fun, and even now, a few days later, the show feels more like a lucid dream than an actual event that happened. 
I can't say what we enjoyed best this year – the smiles people had on their faces when they put our headphones on, the insightful talks we had with some of the most representative members of the press, or the fruitful change of ideas we had with partners from the industry… It's hard to tell, but what I can say is that Munich left us with a lot of new ideas, opportunities, and a massive supply of good vibes. 

Introducing the 109 PRO (officially)

We brought all the big guns at Munich – the renowned 99 Classics and Empyrean, the ones that started this whole journey, the Liric and Elite, our newest models, plus the Rai Penta and Advar, for those who love in-ears.
However, the star of the show was, by far, the 109 PRO – a future addition to our headphone lineup. The 109 PRO is the first dynamic open-back headphone from Meze Audio, precisely engineered to deliver an exceptional soundstage and a highly detailed, enveloping sound, with just the right amount of punch.
In true Meze Audio fashion, the 109 PRO blends together carefully selected materials such as walnut wood, zinc, manganese steel, assembled together using only nuts and bolts, making this headphone fully and endlessly serviceable.
Currently in production, set to launch in the next months, the 109 PRO seems to have already gained the appreciation of the audiophile community, which makes us even more excited to share it with the entire world.

Autograph signing session with Alan Parsons

Together with our partner in Germany, Thomas Halbgewachs from Headphone.shop, we had a plan of getting people at the show together on Saturday evening and celebrate the opportunity we had to meet with everyone in person. We had Alan Parsons, Brand Ambassador and face of High-End Munich 2022, to come by our booth for an autograph signing session which has made guests so happy.
We had the chance to continue the discussions that began during the day over a few beers, and needless to say it was a blast. We took a ton of photos, too, so take a look: 
Many thanks to everyone who made all of this possible, from the team at High End Society to all the people who came visit us at the show, and especially our partners from Astell&Kern, Auris Audio, Cayin, Chord Electronics, DCS, EarMen, Feliks Audio, Ferrum Audio, iFi Audio, Innuos, Mytek Audio and Headphone.shop.
Getting together after such a long time was extraordinary, looking forward to the next one!