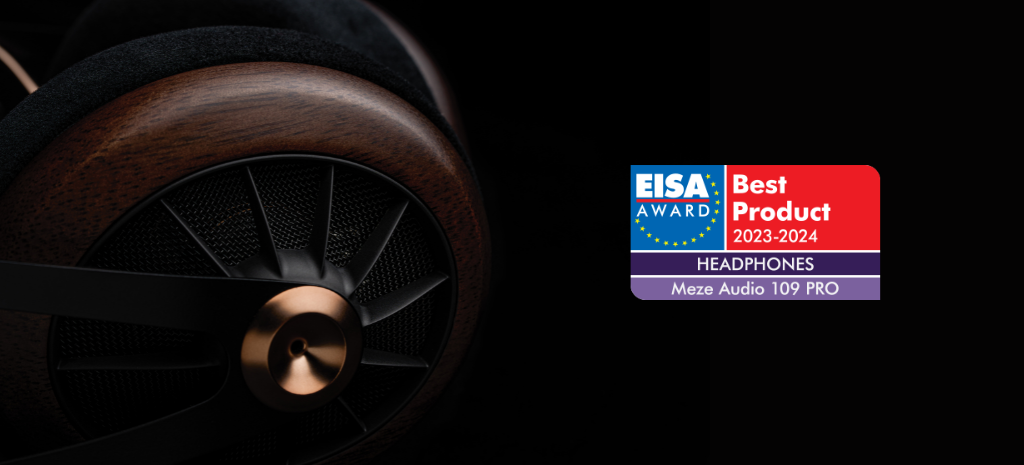 For the second year in a row, Meze Audio's expertise was acknowledged by one of the most prestigious institutions in the field of electronics – EISA (Expert Imaging and Sound Association). The 109 Pro has been voted by EISA's international committee of journalists as the Best Product of the year 2023-2024, in the Headphones category.
With its alluring combination of expansive, detailed soundstaging and tight, controlled bass, the 109 PRO is a superior headphone suited to all types of music. It triumphs in the looks department too, its acoustically smart design being built around opulent black walnut housings and a slender, lightweight frame. And thanks to its elegant self-adjusting headband and velour earpads, listening comfort is guaranteed. - EISA JURY
ABOUT EISA
A global network of 61 of the most respected magazines covering Hi-Fi, Home Theater Audio, Photography, Video, In-Car Electronics and Mobile Devices, EISA brings together the best journalists in the audio and video sectors.
Each year, EISA members review and reward products that combine the most advanced technology and desirable features with class-leading performance, ranging from the most affordable products to the most aspirational expressions of modern electronics.
THE JUDGING PROCESS
The first step is the nomination process - each member magazine nominates an initial short-list of products that best reflect the top qualities in their particular Expert Group, based on their own reviews and tests throughout the year.
All these individual recommendations are collated into a master list until late June, when the members of each Expert Group get together to discuss the merits of each product in detail. The final voting takes place during the same meeting and all nominations are kept strictly confidential.
In 2022, Meze Audio's Elite received the EISA Best Product distinction in the High-End Headphones category. We are thankful beyond words to all the people that took the time to listen to our headphones and deemed them worthy of this valuable distinction.
Discover more about EISA, here.
Learn about the 109 Pro, here.